Announcements
Referral Bonus Program Launches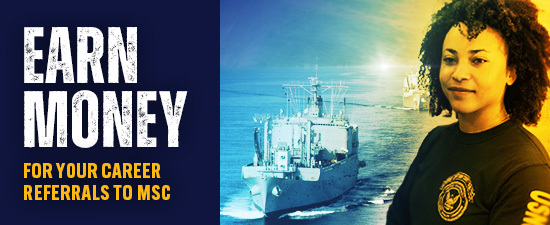 You can earn a $500 referral bonus for each qualified mariner you refer who MSC hires! Specific information is included here on qualified positions and additional details! Direct those to begin the application process at https://apply.sealiftcommand.com/
POSITIONS WITH RETENTION INCENTIVES
If you are permanently filling one of these positions and are not currently receiving a recruitment incentive you should receive the retention incentive, which is paid on a bi-weekly basis in your payroll. All retention incentives are 10%.
DECK: First Officer, Boatswain Mate, Able Seaman
COMMS: SCO, SCO-IAM, CRET, CRET-IAT, RET1, RET1-IAT
ENGINE: First Assistant Engineer, Chief Electrician & Electrician, Electronics Technician, DMAC, UJE, Pumpman
SUPPLY: Chief Steward, Chief Cook, Steward Cook, Cook Baker, Assistant Storekeeper
Please direct any questions regarding the recruitment incentive to msc_hr_persact@us.navy.mil
Where to Send Your Promotion Opportunity Application
Please be sure to send your Promotion Opportunity Application to MSC_POAinbox@us.navy.mil. We are unable to receive emails sent to the previous group box.
LEAVE UPON TRANSFER
Upon discharge from ship tour and before authorized leave expires, CIVMARs are to communicate with the CIVMAR Support Center (CSC) that will convey to respective Marine Placement Specialist (MPS) via email, facsimile, or telephone and submit a "Request for Leave or Approved Absence (OPM 71)" with medical documentation as apropos when additional vacation time or sick leave is desired.
Upon discharge from ship tour and before returning for duty from vacation, CIVMARs are to communicate with the CSC that will convey to respective MPS via e-mail, facsimile, or telephone with regard to administrative requirements (i.e. medical surveillance programs, professional credentials, etc.) that need to be reviewed and accomplished.
Report to CSU for duty on that Sunday (if residence is outside of 50 miles) or Monday (if residence is within 50 miles) with copies of all training certificates, passport, credentials, and etc. Note: If Monday is a holiday, then shift report for duty dates by one day.
DEATH OF A CIVMAR
To report the death of a CIVMAR please contact 1-877-562-7672. To contact a CIVMAR about the death of a family member between the hours of 2000 and 0700 EST, please call 757-434-2752.
Did You Know?
CIVMARS retiring from Critical / Hard to Fill positions may be eligible for rehire under the Reemployed Annuitant Program. This program allows a retiree the opportunity to continue to serve while drawing full annuity payments. There are some limitations to the program, such as:
Annuitant appointment must advance the DONs critical mission needs
Positions are typically temporary or term – and time limits may not be waived
Annuitants with veterans preference may be appointed to a permanent appointment if reached through competitive examining procedures
Applicants must qualify for and have held the grade or pay band of the position
Contact the CIVMAR Support Center at 1-800-793-5784 for more information.
EMERGENCY AFTER HOURS CDO
In the case of an emergency after close of the CSC in the evening (between the hours of 2000 - 0700 EST), on the weekend or over a holiday, call the MSC CDO at 757-434-2752.
---
---
NOTICE: This site is for currently employed MSC Civil Service Mariners.
Military Sealift Command exists to support the joint warfighter across the full spectrum of military operations. Our mission is timeless and essential. Regardless of the challenge, we prevail! Working seamlessly with key partners to master the maritime and cyber domains, MSC provides on-time logistics, strategic sealift, as well as specialized missions anywhere in the world, under any condition, 24/7, 365 days a year.
Whether you are a current CIVMAR or are interested in becoming one, you may have questions. Supporting you and providing answers is one of MSC's main objectives. To assist in answering your questions and helping you along the way, we have compiled the below resources.
Need assistance?
Get the support you need from the CIVMAR Support Center
Phone: 800-793-5784
Email: civmar@sealiftcommand.com
CIVMAR Support Unit Check in Process
You must be FFD or FFD/R prior to CSU check in
Both the CSU-East and CSU-West are no longer requiring physical check-ins, but you must be in the local area unless you are participating in the Virtual Pool Pilot (VPP) program . You must check in via email.
-For those on the west coast, you will email muster between 0630 – 0730 at msc_civmar_muster_west@us.navy.mil.
-For those on the east coast, you will email muster between 0630 – 0730 at msc_civmar_CSU_east@us.navy.mil.
To make hotel reservations, please contact the following:
East Coast CIVMARs:
757-443-1833
0730 - 1530 EST Monday through Friday
West Coast CIVMARs:
619-524-9928
0730 - 1530 PST Monday through Friday
Merit Promotions
Current Promotion Opportunity Announcements
Search the Site
Search the website for forms, positions, and other information